Music Kitchen Timer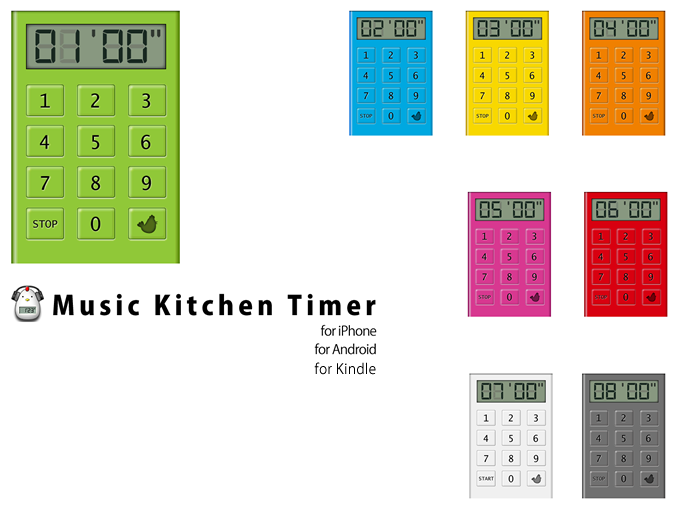 Eight fresh color textures to brighten up your kitchen
Five pieces of beautiful classical music and one alarm
Share your cooking excitement on twitter!
Easy to read digital panel and easy to push buttons
Share With Friends
"Music Kitchen Timer" is a digital kitchen timer app for iPhone, iPod touch, Android smart phone and tablet. It will make your cooking time happier.
Music Kitchen Timer can be customized with a variety of fresh colors for its main body, has beautiful alarm sounds, a simple user-friendly control panel and large buttons.
Key Features
Eight fresh color textures to brighten up your kitchen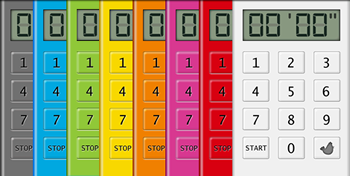 The main body of the app has bright colors and glossy texture resembling fresh tomato, carrot, milk and asparagus. It is easy and free to change colors from the settings menu. The variety of colors will cheer up your kitchen, and you. Choose from white, blue, green, yellow, orange, pink, red or gray.
Five pieces of beautiful classical music and one alarm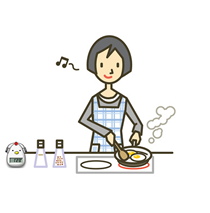 When the count reaches zero the app plays a beautiful piece of music by either Mozart, Vivaldi, Satie, Offenbach, or a Japanese folk song. Enjoy this beautiful alarm music as your background music while cooking. Kids love it and you will too.
Alarm sounds
Alarm
Twinkle Twinkle Little Star
Je te veux
Orpheus in the Underworld
Kompira-fune-fune
The Four Seasons Op.8-3 Autumn
Share your cooking excitement on twitter!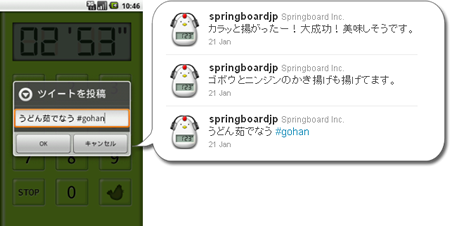 Tap the cute fowl icon button and send tweets while checking the timer countdown. Share your cooking excitement or recipes with your friends and the whole world. It makes cooking more social.
Let you know count zero app in background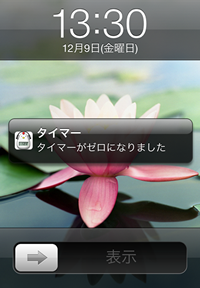 The app let you know count zero even in backgroud.
iOS Notifications pop up on iPhone/iPodTouch, and alarm music start to play and vibrate on Android hundset When the count reaches zero.
Easy to read digital panel and easy to push buttons
The easy to read digital panel and the easy to push buttons are basic but are the most important things about kitchen timers. We have tried to improve the usability of the digital panel and buttons. Furthermore, in order to offer more convenience the settings allow you to adjust sound volume, vibration, and the pre-alarm which sounds five minutes before the count reaches zero.

Clear and bold original digital number fonts have been developed that are easily viewable on a smart-phone display.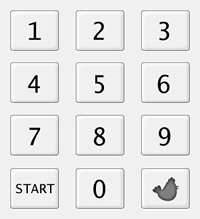 Large buttons and moderate button margine are designed to be easy to use.
Buy "Music Kitchen Timer"
Buy on the App Store
Go to PC App Store and buy it.

Buy in Google Play
Go to PC Google Play and buy it.

Access to Google Play with this QR code reader app.

Buy on Kindle App Store
Go to US Amazon Kindle App Store and buy it.


Specifications
App name
Music Kitchen Timer
Release date
for Android 21 September 2011
for iPhone/iPod touch 11 October 2011
for Kindle 12 April 2013
Language
English / Japanese
Price
Please make sure the latest price on the App Store or Google Play.
Available Handsets
iPhone, iPod touch, Android OS smartphones and tablets
Android OS Tested handsets
Galaxy S /Samsung (NTT Docomo)
Galaxy Tab /Samsung (NTT Docomo)
Xperia /Sony Ericsson (NTT Docomo)
LYNX 3D SH-03C /Sharp (NTT Docomo)
INFOBAR A01 /Sharp(au by KDDI)
IS01 /Sharp(au by KDDI)
IS03 /Sharp(au by KDDI)
Nexus S /HTC
Nexus One /HTC

Support
twitter
@springboardjp
Email
http://www.springboard-inc.jp/en/contact.html#about
Android is a trademark of Google Inc. Use of this trademark is subject to Google permissions.
Other corporation names and service/product names on this page are trademarks of the respective companies.
Features and specifications are subject to change without notice.